100T Vertical Electric Motor Aluminum Rotor Die Casting Machine
The Rotor die casting machine is especially designed for induction motor rotor casting. It is an advanced machine using the pressure die-casting technology, the production efficiency is high, automation level is high, helpful for reducing labor force.
The working principle of the high pressure aluminium die-casting machine is:
Manipulator takes the melt aluminium liquid into the die-casting mold, adopts high pressure to push the aluminium liquid into the rotor slot, the liquid become solid within short time.
This technology is different from centrifugal aluminium die-casting, the aluminium liquid is injected into the aluminium mold which is rotating, it makes the rotor being filling with aluminium under centrifugal force.
The Rotor Die Casting Machine is a vertical type, injecting aluminium liquid into rotor instantaneously, the injection rate is very high, while centrifugal die-casting machine allows alminium liquid flow for a while and it needs to pre-heat the rotor before aluminium injection.
This Rotor Die Casting Machine is composed of lamination combination, aluminium injection, hydraulic and electrical systems. Adopt the fully hydraulic joint structure, easy to change the mold of different thickness. High injection force, high injection speed and non - polar adjustment according to technological requirements.
This machine could used for rotor aluminium die-casting and copper die-casting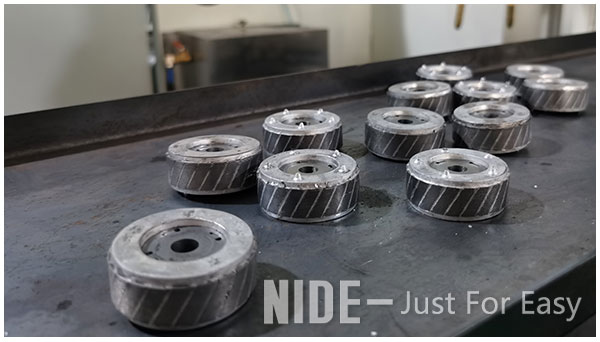 Rotor Die Casting Machines Feature
Safe and simple operation, it is very easy for operator to run the automatic centrifugal aluminum casting machine, operator only need to press "start" button, no need to handling the heavy tooling which might occur body injury, and the machine has aluminium anti spatter design to prevent the aluminium liquid from spraying and cause injury.
Healthy, our rotor aluminum casting machine doesn't need asbestine cup to keep the temperature and demould.
Power saving, and tooling cost is much less and fast tooling changeover.
Rotor loading: automatic pneumatic circularly pick up.
Get aluminium melting liquid: servo motor control the mechanical arm, control the liquid volume through human-machine interface.
Automatic cut the waste material, automatic recycle the cut wasted material and convey it to the furnace by the conveyor.
Automatic feed mold releasing agent, the feeding time and times can be set.
There is water cooling channel, helpful for reducing the mold temperature effectively.
Setting on touch screen: forward and backward speed, stroke, swing angle of the mechanical arm, loading speed,etc.
Machine will alarm and stop working if out of material.
Failure will be automatic displayed and machine will alarm.
Rotor Die Casting Machines Technical Parameters
Product Name:

Fully Automatic Electric Motor Aluminum Rotor Die Casting Machine

Die Casting Stations:

4 Working Stations

1、Main cylinder:

1main cylinder mold lock forceKN500

2main cylinder mold lock travel mm400

2、Injecting cylinder:

1Injecting cyliner travel mm150

2Injecting cylinder injecting force KN300

3Injecting force(Min-Max)KN70-300

4capacityL20

5aluminum depot OD(Max)mm75-90

6punching head OD(Max)mm75-90

7aluminum depot capacity(Max)kg1.8

8Injection punching head travel distancemm55

9cycle times15-20

10Rotor ODmmMax 85

11Rotor stack heightmmMax 90

3、Motor and pump:

1Pump motor powerKW7.5

2Divider motor powderKW0.75

3Oil pump (plunger pump)L40Y

4、Machine dimesion:

1Main frame(L*W*G)mm1800*1800*2500

2assembly of oil tank and electric appliance(L*W*G)mm1500*1000*900

3turntable ODmm1000

5、Cooling pump specification:

1Submersible pump powerKW1.5

2Submersible pump rate of flowM3/H5

3Submersible pump water pressureMPa0.4

Remark: the max pressure of this machine is 25Mpa / Submersible pump power 220/380V Optiona
Rotor Die Casting Machines Picture




Rotor Die Casting Machines Video