Fully automatic vertical motor stator winding machine with 4 station
1.Stator Winding Machine Introduction
The stator winding machine is used for induction motor stator coil winding.It adopts vertical coil winding structure design, will be tailor made to suit your own production needs and will incorporate multiple coil winding stations to meet the outputs levels required.
Each system is PLC servo motor controlled for high accuracy and repeatibility for all machine and tooling movments including automatic slot wedge making.
2.Stator Winding Machine Application
The stator winding machine is mainly used in three-phase motors, single-phase motors, washing machine motors, vacuum cleaner motors, fan motors, air conditioner motors, pump motors, refrigerator motors, etc.
Induction motor refers to a motor that uses electromagnetic induction between the stator and the rotor to induce current in the rotor to achieve electromechanical energy conversion. The stator of an induction motor consists of three parts: a stator core, a stator winding and a frame.This stator winding machine is a good help for the motor stator to complete the coil winding.
3.Stator Winding Machine Parameter
| | |
| --- | --- |
| Product name: | Fully automatic stator winding machine for induction motor |
| Wire diameter: | 0.19~1.2mm |
| Flyer diameter: | 220mm |
| Max stack height: | 65mm |
| Max stator OD: | 130mm |
| Max RPM: | 2000RPM |
| Air source: | ≥0.5MPa |
| Operation station: | 4 |
| Winding head: | 4 |
| Power supply: | 380V 50/60HZ 15KW |
| Weight: | about 4550KG |
| Dimension: | (L)2500*(W)1900*(H)2200mm |
4.
Stator Winding Machine Picture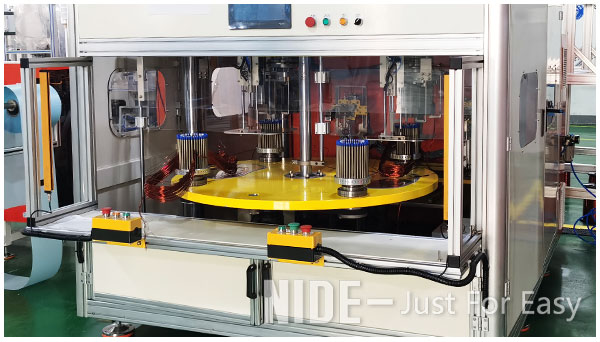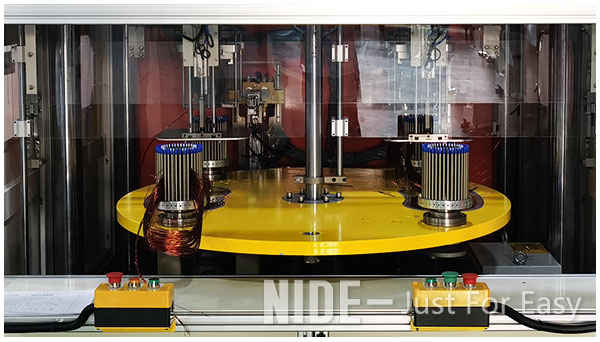 5.Stator Winding Machine Video