Automatic outer rotor slot paper insertion machine for BLDC outslot stator manufacturing
(1). Introduction

This automatic slot insulation paper inserting machine is a special automatic equipment that inserts the insulation paper into the outslot stator slot automatically. Only need to loaded and unloaded the stator manually. The width of the insulation paper is the length of the stator plus the width of the folded edge, and it is necessary to form a loop of insulation paper. Paper feeding, hemming, and stamping are all done automatically.
(2). Machine main function and characteristic:
This machine adopts full mechanized action and PLC for parameter control.
This product has mature technology, advanced technology, reliable quality, convenient use and maintenance.
This equipment is equipped with a man-machine interface to set parameters. It only needs electric control to change the number of slots. It can automatically insert the slot and jump slot. The stator slot type can be changed and the mold can be changed quickly and easily.
The cutting edge of insulation paper should be neat, no damage, and free of burr.
The stator should not be deformation and stator lamination should not be upward resulting from paper inserting.
The whole set of tooling can be changed, and it takes about 30min.
Machine will stop automatically when paper jams.
With a text displayer, this machine can display and set all different models' parameter.
Primary qualification rate ≥99%, after rework, the rate ≥99.9%
Production capacity ≤1s/slot (exclude the loading/unloading time)
Paper width: stator stack length+14mm, edge folded: according to customer's requirement.
Operator needs to stand while operating.
This machine adopts single hand system button.
This machine is suitable for Polyester Film insulation paper roll material with thickness 0.25mm and fixed width(width is decided by customer)
Low noise, fast speed, full molding.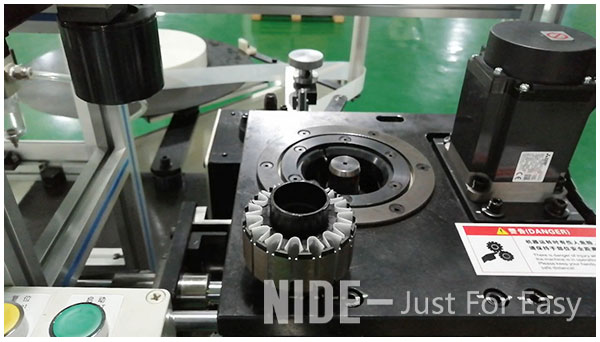 (3). Technical Data:
| | |
| --- | --- |
| Product name: | Automatic outer rotor stator insulation paper insertion machine |
| Laminated thickness of stator: | 10mm-100mm |
| Max outer diameter of stator: | Φ 200mm |
| I.D of stator: | Φ 15mm- Φ 90mm |
| Height of edge folded: | 2~4mm or 4-7mm adjustable |
| Max insulation paper's thickness: | 0.3mm |
| Feeding length: | 12mm-45mm |
| Tack time: | 0.5-0.7s/slot |
| Input: | 380V/50Hz |
| Power: | 0.75KW |
| Machine productivity: | around 1500pcs/8hours |
| Dimension: | 1100mm × 650mm × 1000mm |
| Weight: | ≈ 400kg |

(4). Application
This slot paper inserting machine is suitable for a variety of electric motor outer rotor, such as small and medium three-phase motors, gasoline generators, brushless DC motors, blower motors, fan motors, table fan motors, ceiling fan motors, etc.
(5). Picture display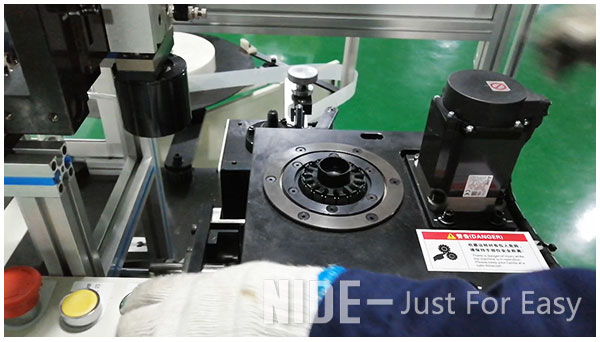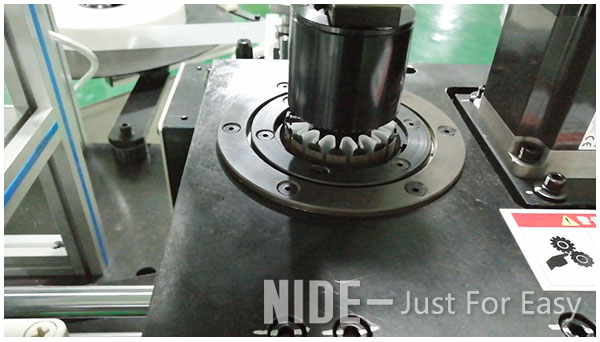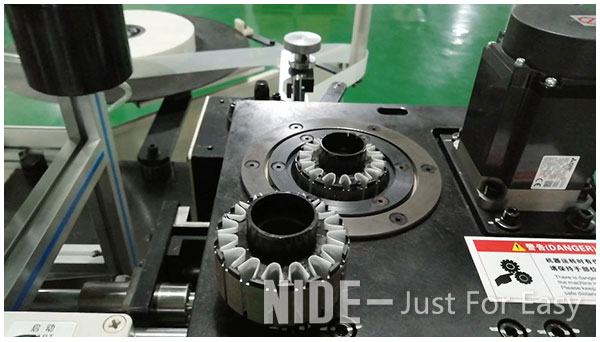 (6) Daily maintenance of equipment
1. Check the mechanical, electrical, hydraulic, pneumatic, lubrication and other parts of the equipment before each work, check whether the fasteners are loose, whether there are abnormal sounds in moving parts, and whether the electrical parts are operating normally.
2. After the equipment is finished, remove the sundries and wipe the equipment, and stop the moving parts of the equipment in the original position.
Automatic Outslot Stator Insulataion Paper Insertion Video