Automatic Water Pump Motor Stator Production Line
This stator production line is mainly suitable for ordinary water pumps and deep-well pump motors with long stack length. The whole line is integrated with loading structure, motorless line, paper inserting machine (including robotic arm and storage structure), winding and lacing combination machine, in-and-out station middle forming machine with robot, four-station wire lacing machine, in-and-out station final forming machine, transplanting mechanical arm, power belt line and other machines.
The cycle time of the whole line is within 22 sec/unit, which has lower labor cost and higher production efficiency. With simple operations, it is convenient to change tooling and reduces labor dependence.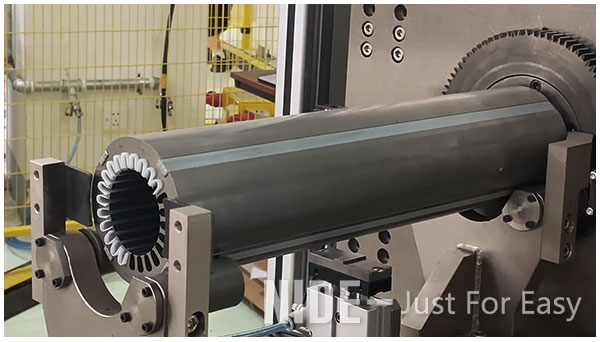 Technical Parameter
| | |
| --- | --- |
| Product name: | Automatic Water Pump Motor Stator Production Line |
| Stator O.D.: | ≤φ135mm |
| Stator I.D.: | Φ35~φ110mm |
| Stator Stack Length: | 30~90mm |
| Power Supply: | 380V/50Hz/60Hz 0.75Kw |
| Wire Size: | 0.21-0.65mm |
| Size: | (L)16000*(W)6000 |
Production Process
Insulation inserting→ Winding to primary and secondary phase→ Pre-forming→ Press and connect lead wires→ Sheath and temperature protection installing→ Pre-lacing→ Lacing→ Final forming→ Appearance inspection → Testing and packing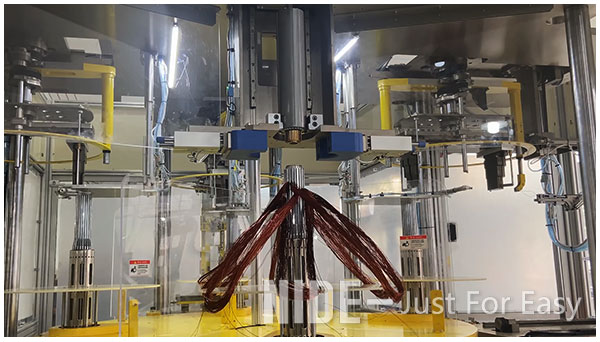 Technical Proposal
Cycle time for whole line: Within 22 sec/pc
(Example of Winding basic pattern:
Primary: 4 coils, 800 turns, wire size 4 copper.
Secondary: 2 coils, 650 turns, wire size 0.4 copper.)
Excluding manual working and material changing time, the whole line can product stator more than 1,500 pcs with 10 hours.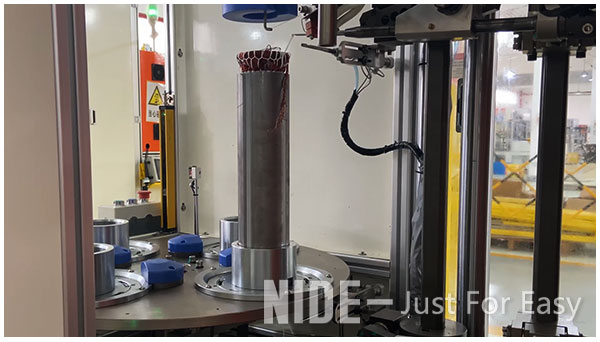 Machine Features
The robot will deal with the carrying work during process of automatic stator core loading, insulation inserting, winding and inserting. As for middle forming, lacing and final forming, the transfer will be handled by manipulator.
Manual operation is adopted for connecting lead wires, installing sheath and temperature protection, and pre-lacing.
Appearance inspection: Manually visual inspection.
Final test: Manually put the stator into the stator comprehensive testing equipment for testing.
Picture show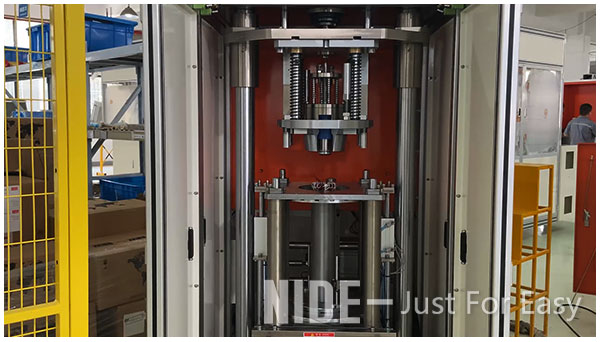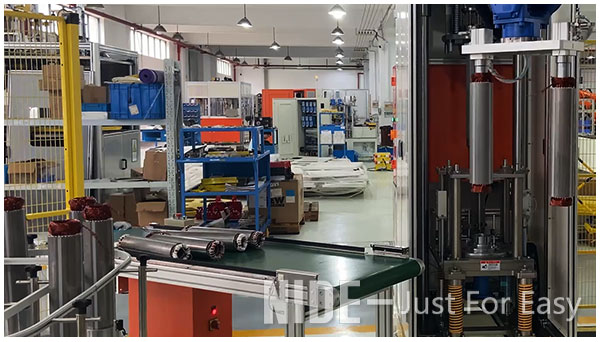 Automatic submersible pump motor stator line video