Electric Motorcycle Wheel Hub Motor Insulation Paper Insertion
This machine is used for electric motorcycle wheel hub motor manufacturing. It is inserting insulating paper into the wheel hub stator slot. The operation of the equipment is simple. It only needs to manually pick and place the hub stator, and the machine automatically winds the wire.
NIDE Group not only provides electric motorcycle hub motor stator inserting machines, but also provides a series of hub motor manufacturing solutions, including hub motor stator wedge inserting machines, motor stator winding machines, hub motor stator spot welding machines, motor stator testing machine, hub stator assembly line and so on.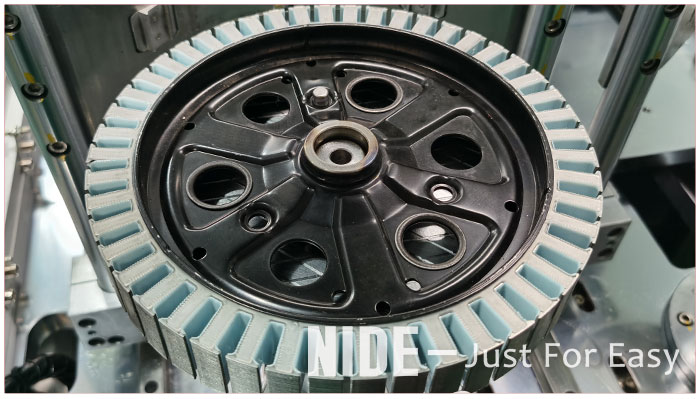 1、Equipment parameters:
| | |
| --- | --- |
| Product Name: | Electric Motorcycle Hub Stator Slot Insulation Paper Insertion Machine |
| OD: | 80~200mm |
| Adapt to stacking thickness: | 18~35mm |
| Number of stations: | single station |
| Insulation paper thickness: | 0.188~0.35mm |
| Power supply: | 220V 50/60HZ 1.0KW |
| Weight: | 350KG |
| Dimensions: | 500x550x1500mm |
2、This motor stator slot insulation paper insertion machine is suitable for hub motor stator insulation paper insertion, such as electric motorcycles, electric scooter motors, electric bicycle motors, electric tricycle motors, new energy vehicle motors, battery cars, electric balance car motors, etc.
3、Functions and features
This machine is specially designed for placing insulating paper on the BLDC hub motor stator.
99% pass rate for one-time paper insertion, 100% pass rate after repair
The paper is fed by a stepping motor, which greatly improves the paper insertion efficiency of the hub motor.
The number of stator slots, paper feeding speed, indexing speed, indexing direction and other functions can be set through the man-machine interface.
The working frequency can be infinitely variable.
The stator has no warping or deformation caused by paper insertion.
The whole machine has no obvious vibration and noise.
4、Picture display