Automatic two-wheeled motorcycle brushless drive motor manufacturing assembly line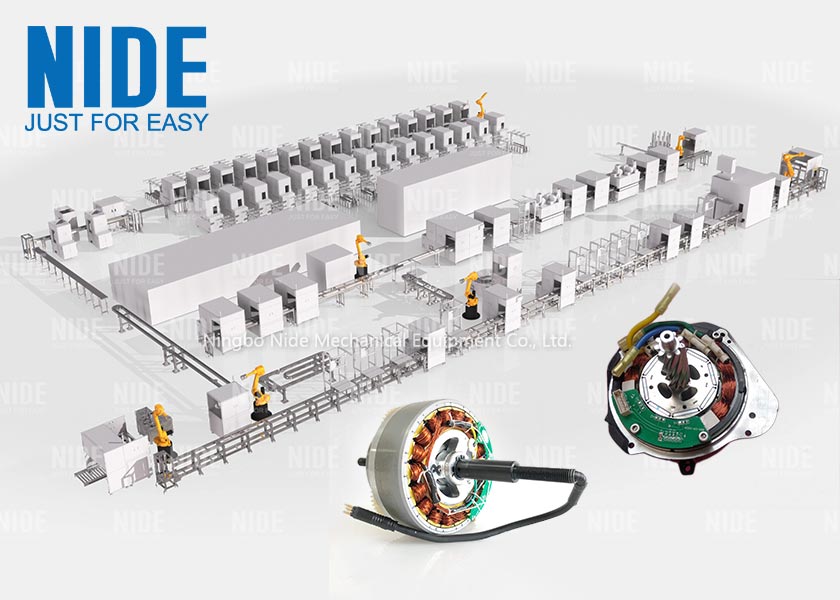 Motor assembly line application:
This brushless motor assembly line is suitable for the automated production of automobile drive motors. For example, two-wheel electric motorcycles, electric bicycles, electric balance bikes, new energy vehicles, three-wheel electric vehicles and four-wheel old scooters.
Overall motor manufacturing technology solutions
NIDE Group Can supply this fully automatic two wheeler electric motorcycle motor assembly line,which helps for labor force reducing, high efficiency, improve the consistency of the motor.
Align with Industry 4.0, adopts RFID system, integrate with MES system, make this line easier for traceability, remote control, production process monitoring, failure analysis and capacity increasing.
Features of motor assembly equipment
The electric motorcycle motor assembly line includes rotor production line, stator production line and overall assembly line. The whole line realizes high automation, informatization, intelligence and flexibility. Adopting advanced design concept, stator winding machine is used to independently develop patented products for our company, which can greatly increase production capacity and qualification rate.
Application range:
| | |
| --- | --- |
| Rotor | |
| Rotor O.D: | 80~100mm |
| Stack height: | 100~140mm |
| Stator | |
| Stator OD: | 120~140mm |
| Stack length: | 100~150mm |
| Wire diameter: | 0.8~1.0mm |
Motorcycle motor assembly line process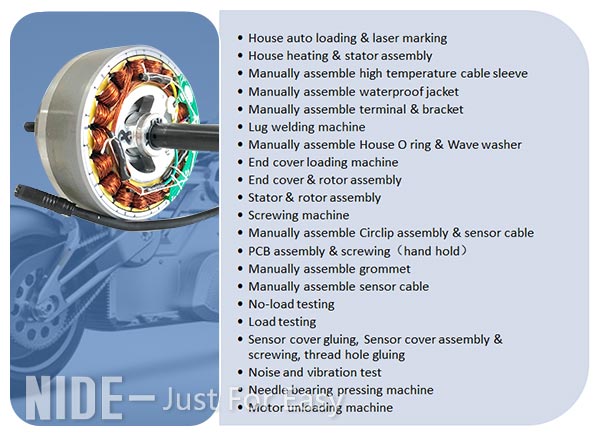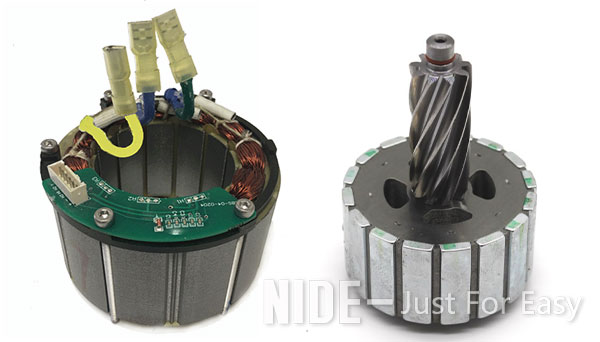 Nide can provide turn-key service and technical consultance for motor production technology, it covers varies type motors. We could accomplish tailored and innovative solutions to meet all quality and production requirements, aim at making motor production easier.

Our fully automatic motor assemble line is suitable for varies type induction motor assembly, BLDC motor assembly, universal electric motor and DC motor assembly, It could automatically assemble the rotor, armature, stator and motor components together . It is used for washing machine motor, fan motor, BLDC motor, DD motor, electric bicycles motor , electric vehicle motor , hub motor, DD BLDC washing machine motor , compressor motor, vacuum cleaner motor, power tool motor, wiper motor, mixer motor, RO pump motor, NEMA motor, DC motor, etc. It features fast, efficient, accurate, easy set-up, user-friendly programming and tooling flexibility.