Auto Exhaust Fan motor stator coil winding binding machine
This stator wire binding machine is used to form and fix the stator coil, prevent the copper wire from being exposed inside and outside, prevent the lead wire from exceeding the size of the coil, and fix the lead wire. It equipped with two needles, therefore, it can do lacing for the top and bottom coil at same time, so that it saves time and improve the working efficiency
(1) Application

This motor stator coil winding binding machine is suitable for exhaust fan motors, compressor motors, air conditioner motors, generator motors, washing motors, fan motors, pump motors and other miniature induction motors.
(2) Technical data

| | |
| --- | --- |
| Product name: | Automatic Exhaust Fan motor stator stator coil lacing machine |
| Stator ID: | 50~120mm |
| Stator OD: | Max. 160mm |
| Stack length: | 35~165mm |
| Over-hang height: | Max. 60mm |
| Lacing mode: | slot by slot/ interval slot/ fancy lacing |
| Lacing speed: | 0.5s/s |
| Power: | 380V/50/60HZ 3.5KW |
| Machine weight: | about 650kg |
| Machine dimension: | L1500*W700*H1650mm |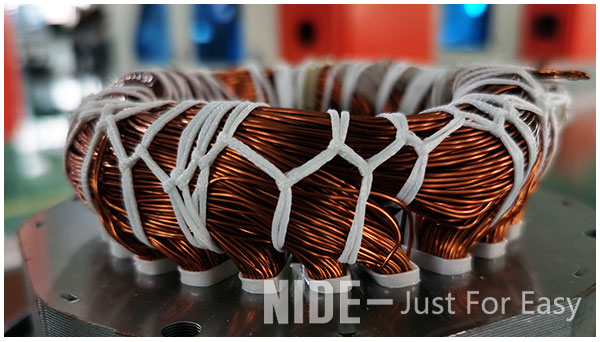 (3) Machine main function and characteristic

This machine adopts servo driven system, CNC control design and HIM program.
Main spindle adopts servo control system. The rotation speed can be set.
Two needles driven by servo system lace upper and lower coil simultaneously.
The indexing is driven by servo system. Different lacing mode could be set such as slot lacing, interval lacing, and fancy lacing.
Lacing tension can be set,
Tooling change is fast and convenient. Stator stack length range is 50-130mm.
Machine can automatically feed thread and cut thread. There is no need to tie a knot.
Production capacity ≤1s/slot.
Primary qualification rate ≥98.5%, after rework, the rate ≥99.5%
Should be no copper wire snap and wire enamel broken.
This machine adopts safety grating protection system. Operator need to stand when operating.
Machine adopts two hands simultaneously start button to ensure safety.
(4) Picture show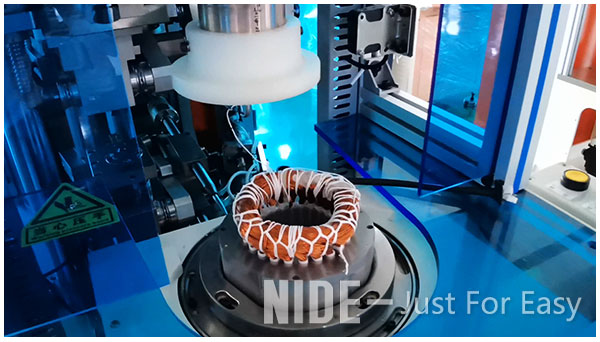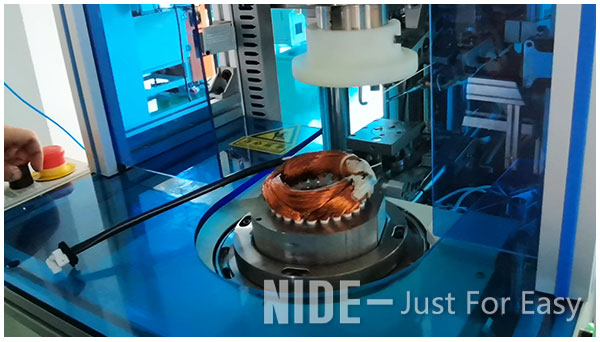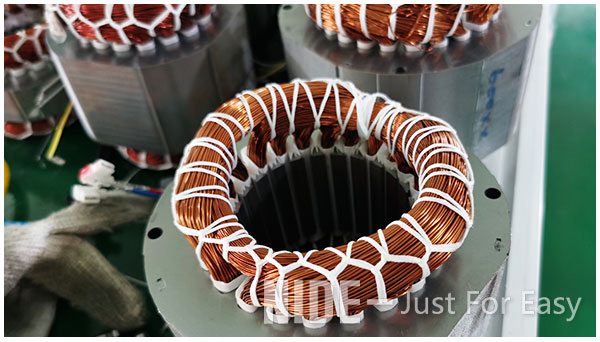 (5) The double ends stator coil winding lacing machine video