New Energy EV motor stator production line
This stator production line is suitable for the new energy motors manufacturing, and is mainly used in the automotive field, such as pure electric vehicles, hybrid electric vehicles, electric buses and so on.The stator production line is highly automated, reducing labor costs and greatly improving production efficiency
1. Conveyor and fixture plate for New evergy EV motor stator production line
Description:
Stator production line Dimension: 13.65m X 4m
Plate is transported to the loading station, lifting mechanism push it to the pre-position, convenient for robot pick up
It's sectional structure, can be fast assembled and disassembled, and can disperse the force from the weight
There is anti-reversing device at the plate position(proximity switch control, anti-reverse and anti-forward),running stable, noise<75dB
There is lead wire fixing slot on the fixture plate, effectively fix the lead wire, won't stop the other process
Conveyor speed<20m/min, adjustable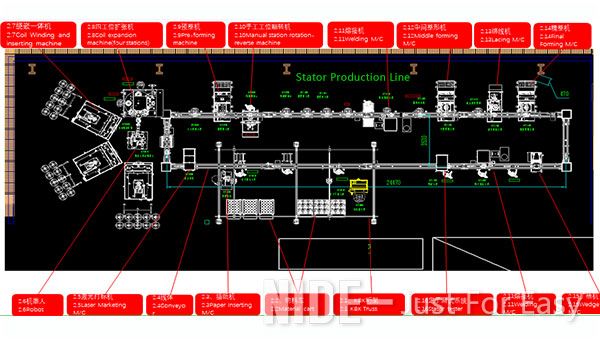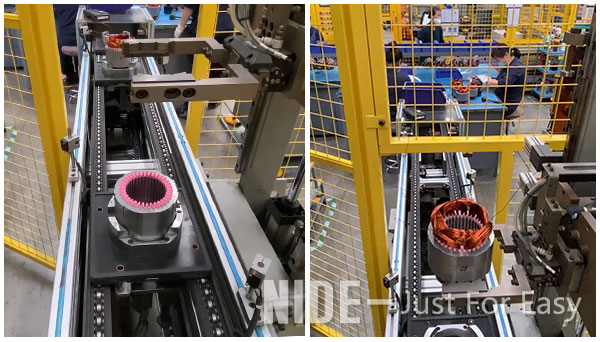 2.The New evergy EV motor stator production line is equipped with intelligent robots

Features: intelligent robots
Machine features:
Robot transfer the material between machine and conveyor
Loading range is decided as per stator weight
Robot cable: adapts build-in method
Adapts intelligent robot
Equip with demonstrator
Repeatability positioning accuracy: 0.05mm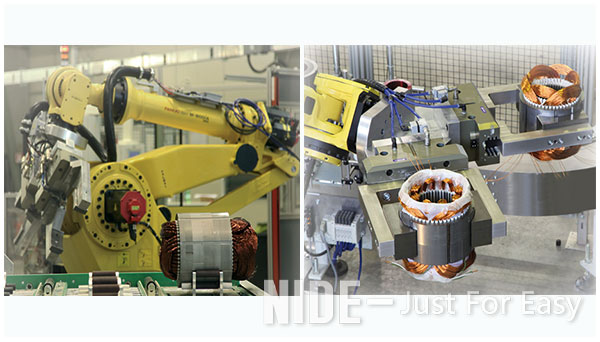 Main model introduction
1. New evergy EV motor stator Slot Paper inserting
Description: it consists of paper support, paper feeding mechanism, indexing mechanism, paper cutting mechanism, paper pushing mechanism, etc.
Function: fold two sides of the paper, form, cut and push into stator slot; can insert paper for different shape slot on one machine.
2.New evergy EV motor statorCoil winding and inserting machine
Description:
Winding mold rotate, mechanical arm lay wire, can do multi-strands wire parallel winding, no-loading speed of the spindle is 120r/min, winding speed is decided as per parallel winding wire No. and wire diameter;
On the HMI, the winding speed, mold sinking speed, wire hooking arm moving speed, wedge making speed, turn-table rotation speed, coil push-up height and stopping time, the open distance of the winding mold and wire push-up height adapts servo control. Chang-over time: 80mins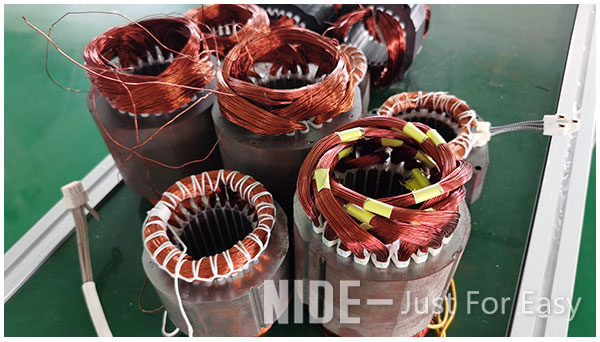 3. New evergy EV motor stator Coil expansion machine(four stations)
Description:
The mold is modularization design, achieve model fast change-over, technology is mutual, production process is advanced, quality is reliable, easy and convenient operation.Up mold, bottom mold and protection teeth disc is fast change-over type, up mold, bottom mold and coil height forming is servo control, to ensure the stack length change-over fast and coil height adjustment.
4.New evergy EV motor stator coil Lacing machine
Description:
With in-out sliding table, automatically loading/unloading, automatically knotting.Servo and pneumatic driven, fast change-over
The lacing needle following angle can be set on HMI, rotation angle of each slot needle rod can be set individually, it's the most reliable, advanced lacing machine currently.
5. New evergy EV motor stator tester
Description:
Interation structure, simple operation station
Especially designed for fully automatic line, easy operation software
Testing item can be set, to improve testing efficiency
Openness software
Optimized cost efficiency ratio
Suport function customization
Support integration with production management system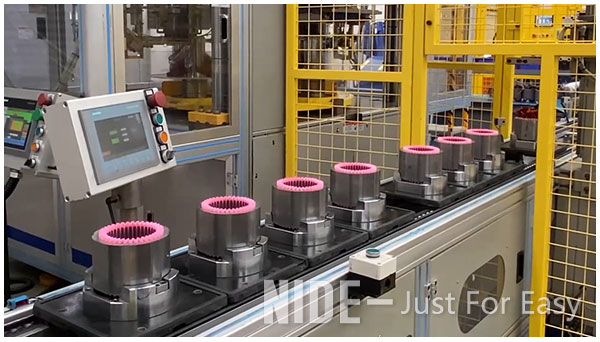 NIDE fully automatic motor assemble line is suitable for varies type induction motor assembly, BLDC motor assembly, universal electric motor and DC motor assembly, It could automatically assemble the rotor, armature, stator and motor components together . It is used for washing machine motor, fan motor, BLDC motor, DD motor, electric bicycles motor , electric vehicle motor , hub motor, DD BLDC washing machine motor , compressor motor, vacuum cleaner motor, power tool motor, wiper motor, mixer motor, RO pump motor, NEMA motor, DC motor, etc. It features fast, efficient, accurate, easy set-up, user-friendly programming and tooling flexibility.