This new full automatical stator production line adops app remote operation and is consisted of several machines, such as stator paper inserting machine, stator coil winding and coil inserting machine, stator coil lacing machine, stator coil forming machine.
Operator needed for this stator production line is far less than other machines or lines.And The reduction of labor force will not affect the productivity.

With a lower labor cost, and high productivity, this stator product line improves the competitiveness for motor manufacturers.
The stator production line flow chart see below please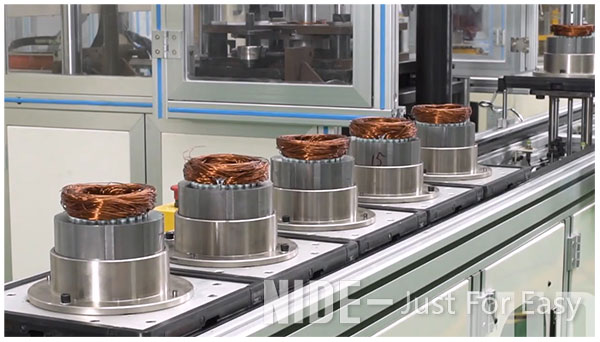 Technical Specification:
1. Flyer swing diameter: 240mm;
2. Stack length: ≤90mm;
3.Stator OD: ≤150mm;
4. Winding speed:≤2200RPM;
5. Number of jumps:2-4 sections
6.Wire diameter: 0.18-1.2mm;
7. Parallel winding wire number: ≤2
8. Air pressure: 0.5 ~ 0.6MPa;
9. Power: 14Kw;
10. Weight: 4000KG;
11. Environmental temperature: -10~60℃
12. Machine dimension (L) 2700* (W) 2300* (H) 2200 (including wire barrel)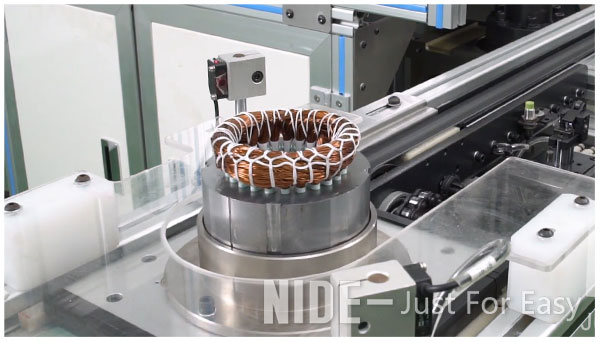 Machine features:
This stator production line is equipped with automatic stator coil winding and inserting machine,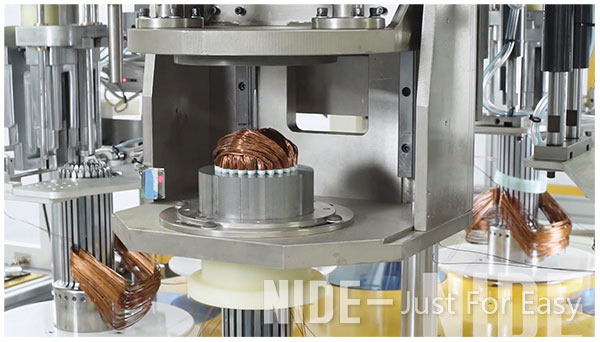 This line is used for washing machine motor stator winding, table fan motor stator winding,etc. The features is as below:
1. Adapts AC servo motor system as the power source for winding, mould dipping, cup indexing, wire hooking&cutting and paper feeding, adapts three-phase variable frequency reduction motor as the turntable indexing power source;
2. Function: three layer coils winding are complete individually by three winding stations;
3. The spindle is controlled by servo motor; accuracy of turns is ±1 turn; the working speed can be set at random, and the whole machine has no obvious vibration and noise;
4. Possible for two wires paralle winding; the winding is neat, and no damage for the enameled wire. The machine will stop automatically once the wire is finished;
5. Adapts servo motion system for wire hooking and cutting XY axis moving at front-back left-right direction, the bridge wire and lead wire length can be adjusted;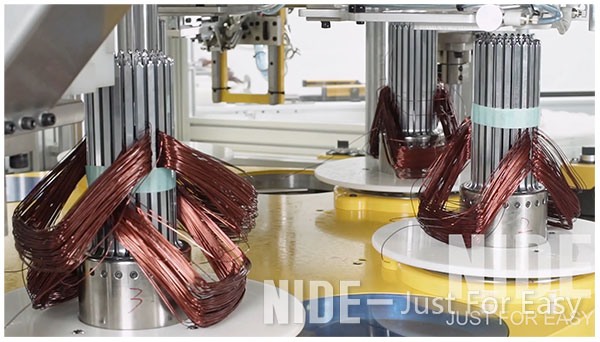 6. The mould dipping is controlled by servo system
7. The process parameter of each stator can be set and saved individually on the HMI,;
8. Adapts cam divider for coil inserting tooling station exchange, the speed is controlled by frequency converter;
9.The whole machine is consisted of winding flyer rotation mechanism, winding mould lifting mechanism, coil inserting angle rotation mechanism, wire hooking arm left-right front-back mechanism, etc.;
10. It has fault diagnosing function;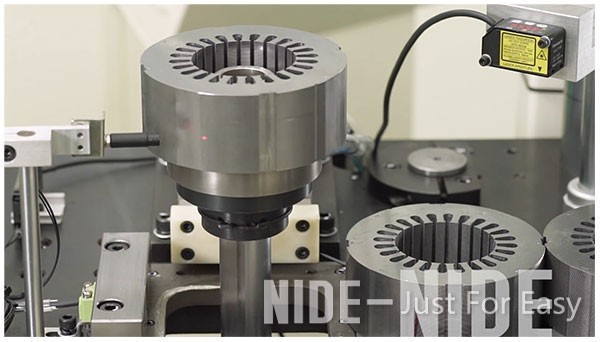 11. Use mylar as the wedge;
12. Adapts servo motor for paper feeding, interval slot wedge inserting can be set. Wedge length and number can be set;
13. Material of the critical parts of tooling: tooling steel;
14.The wire pressing mechanism is stable and reliable, can wind the coil directly and accurately into the winding mould;
15.The Winding mechanism, wedge making mechanism, coil pushing mechanism, coil inserting mechanism has pre-deceleration function;
16.The winding speed, mould dipping speed, wire hooking arm moving speed, wedge making speed, turn-table indexing speed, coil inserting up-pushing height and stop time can be set on the HMI;
17. No damage for the wedge, wire after coil inserting;
18. Cycle time for single stator coil inserting≤32sec/pc
19. There is a wire broken protection device, the machine will emergency stop if no wire or wire broken.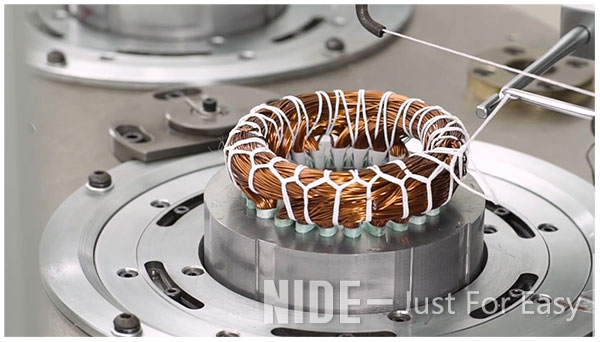 The 3 phase washing machine motor stator manufacturing production line youtube video