This motor stator winding and embedding machine is suitable for the manufacture of new energy motor stators.
Widely used in the automotive field.New energy vehicles have three major advantages: environmental protection, conservation and simplicity. It is particularly evident in pure electric vehicles: the electric motor is used instead of the fuel engine, which is driven by the electric motor without the need for an automatic transmission. Compared with the automatic transmission, the motor has a simple structure, mature technology and reliable operation.
1. New Energy Motor Winding Features and Functions



The New Energy Motor stator coil winding and inserting machine has one automatic motor coil winding stations and one stator coil inserting station. During winding, the motor stator copper wire will be auto wound to the tooling, so as to avoid the wire damage and snap caused by wire cross and disorder during manual wire transfer.With automated coil winding and insertion wokring automatic combination, the stator coil winding and inserting machine will be save labor cost, high efficiency, and can fulfill the 2-pole, 4-pole and 6-pole three-phase motor coil winding. The New Energy Motor coil winding and inserting station is controlled by the dual-power servo motor, and the parameters such as winding, pushing the line, pushing the height of the paper, and changing the product stack thickness can be set on the touch screen.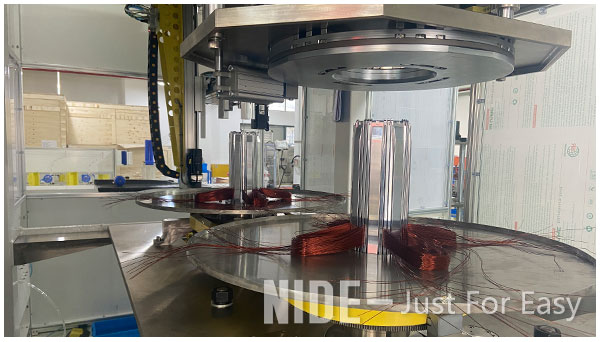 2. New Energy Motor WindingTechnical parameters



| | |
| --- | --- |
| Product name : | New Energy Motor stator coil winding and inserting machine |
| Stack Height: | 30-120mm |
| Appropriate Wire: | φ0.2-φ1.2mm |
| Stator OD: | ≤φ150mm |
| Stator ID: | 40-110mm |
| Motor Winding stations: | 1 |
| Stator Coil inserting stations: | 1 |
| Winding inserting mode: | chained /same core |
| Power supply: | 380V 50/60Hz |
| Air pressure: | 0.6-0.8 MPa |
| Watt : | 5Kw |
| Weight : | ≈2200Kg |
| Dimension: | (L)2200×(W)1500×(H)2200mm |
3. New Energy Motor Winding Picture Show












4. New Energy Motor Winding Video