Automatic alternator Stator Coil Inserting Machine/ alternator motor coil insertion equipment
(1) Application
The automatic stator coil inserting machine is suitable for automobile car alternator motor,air conditioner motor, washing machine motor, compression motor, fan motor, generator motor and pump motor.
(2) Machine mainfunction and characteristic

The machine insert coil and wedge simultaneously, coil insertion is controlled by servo motor system, and wedge insertion by variable frequency motor.
It is controlled by HMI, and machine can diagnose breakdown automatically.
This machine is suitable for Polyester Film wedge roll material with fixed thickness and fixed width (width and thickness dimension is provided by customer)
The wedge feeding is by stepping motor,feeding length, cutting, forming, inserting slot number could be set.
Both copper wire and aluminum wire are applicable.
Production capacity ≤25s/set (exclude theman-hours for auxiliary work)
Primary qualification rate for copper wire≥98.5%, after rework, the rate ≥99.5%
Both wedging system and feeding system have pre-decelerating function.
This machine has alarm for material rubout.
Wire pushing height and stop time can beset in the HIM interface.
This machine has fixed foot and removable wheel.
Wedge should not be damaged, no burr in the surface, no movement or slide.
Slot paper should not be damaged, nomovement or slide. Copper wire should not be pull away from the paper.
The stator should not be deformation or stator lamination should not be upward.
(3) Main technical data
Stator stack length: 10--150mm
Stator OD: Max. 160mm
Stator ID: 30~110mm
Tooling traveling distance: Max.60mm
Suitable wire material: copper/ aluminum wire
Slot number: 8~48slots
Max. slot filling rate: 80%
Power: 380V/50/60HZ 3Kw
Machine weight: about 850kg
Machine dimension: L1850*W650*1700mm
(4)the winding inserting process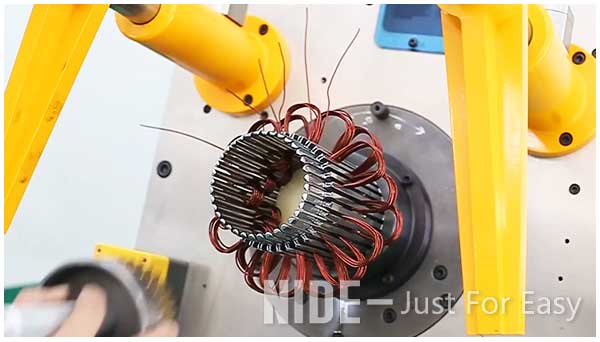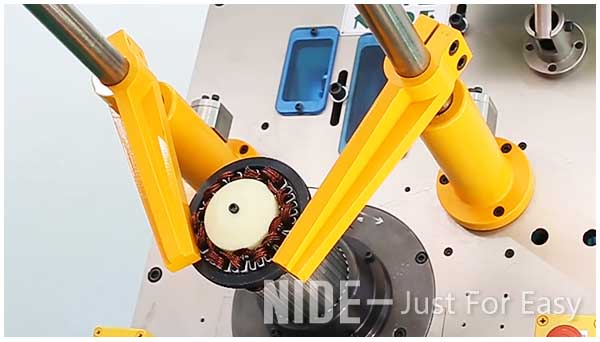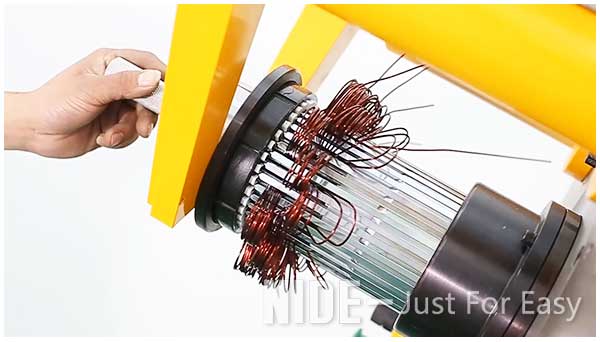 The Automatic Stator Coil Inserting Machine working video