Automatic BLDC Motor Needle Winding Machine
This automatic motor winding machine is specially designed for BLDC motor stator coil winding. The brushless motor winding machine adopts Two-station needle winding technology, easy to operate, reducing labor and training times needed. The production cost will be highly reduced by decreasing the material loss and labor cost.
The number of slots and cycles can be set by man-machine interface;
All aluminum alloy (anodizing treatment) plus imported acrylic protection;
Electric by PLC, display, servo motor control, set, display safe and reliable.
Function and Characteristics:
For multi-pole stator winding, manual loading and unloading, automatic clamping, winding and shearing;
Tooling and fixture parts adopt downward positioning mode, stable positioning and reliable tightening.
Wire clamping and wire cutting, line part structure compact, wire clamping and wire cutting is completed at one time;
Different stator and winding parameters can be quickly switched through the HMI to adapt to different stator requirements.
Quick change-over of tooling;(20 minutes with proficiency)
PLC control, fault display
BLDC Motor Needle Winding Machine Specification:
| | |
| --- | --- |
| Product name: | Automatic BLDC Motor Needle Winding Machine |
| Wire diameter: | φ0.13—φ1.2mm(Other specifications can be specially designed) |
| Stator ID: | φ25—φ60mm (Other specifications can be specially designed) |
| Stator OD: | φ60—φ200 mm (Other specifications can be specially designed) |
| Stack length: | 10-80mm(Standard stroke) |
| Servo mechanism: | One Indexing Motor , One Winding Motor with Brake, two wiring motor |
| Spindle speeds: | 0-260 RPM adjustable |
| Air pressure: | 0.5-1MPa |
| Power: | 10KW |
| Voltage: | 380V/50HZ Three phase four wires |
| Dimension: | 1100*1300*1700mm |
| Weight: | 500KG |
BLDC Motor Needle Winding Machine Picture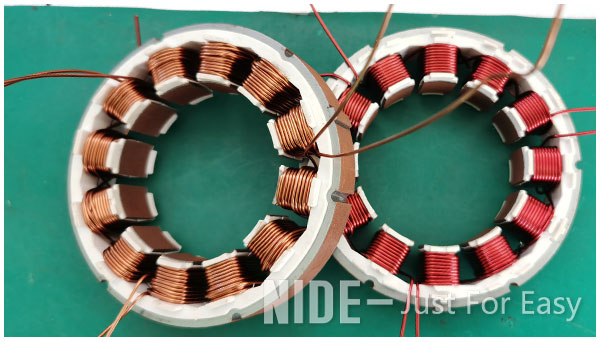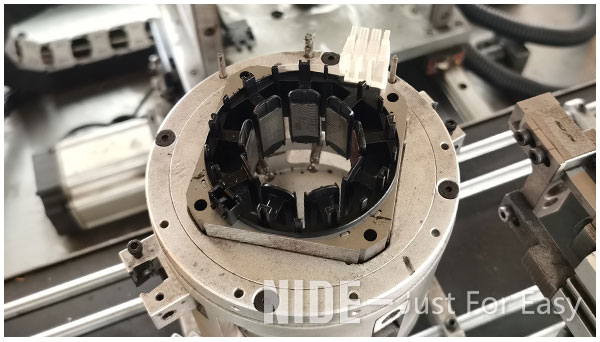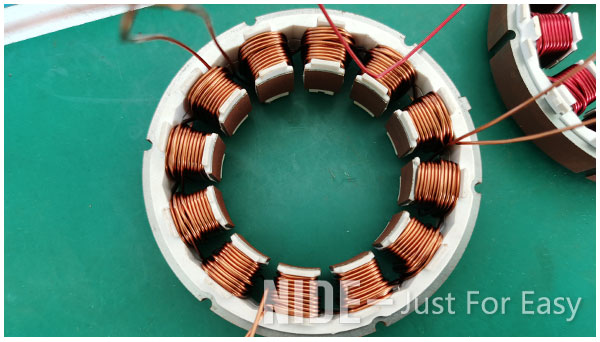 BLDC Motor Needle Winding Machine Video