Automatic Horizontal Motor Stator slot insulation paper inserting machine
This stator insulating paper inserting machine adopts a horizontal design, which is suitable for inserting insulating paper in the stator slot, manual loading and unloading, and automatic paper feeding, cutting, forming, indexing and inserting in the whole process.

Functions and features:
Suitable for inserting insulating paper at the bottom of the stator straight slot;
Manual loading and unloading method;
Automatic completion of paper feeding, cutting, forming, indexing, paper insertion and other processes;
The paper inserting machine has good stable performance, simple operation, safe and reliable;
High production efficiency: about 2.5 seconds/slot;
The paper inserting machine frame is built by professional welding of sheet metal or aluminum, and the protective cover is added with plexiglass. The appearance is beautiful, the design is reasonable, and the structure is firm;
The paper inserting machine is equipped with a safety device, and the equipment will automatically stop when a paper jam or other fault occurs during the operation of the equipment;
The mold change is convenient. The mold is made of cold work die steel Cr12Mov and the hardness reaches 55-60HRC after heat treatment, which is not easy to wear, stable and reliable.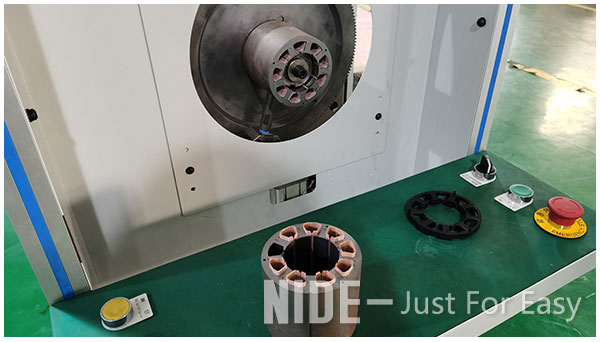 Equipment technical parameters
| | |
| --- | --- |
| Product name | Horizontal electric motor stator slot paper inserting machine |
| Stator OD.: | φ50-φ200mm; |
| Stator stack thickness: | 20~150mm; |
| Paper feeding length: | adjustable within 20~155mm; |
| Number of stator slots: | even and odd slots |
| Insulating paper thickness: | 0.188~0.35mm; |
| Spindle drive: | Spindle motor: 0.75KW; |
| Indexing drive: | Indexing servo motor: 0.75KW; |
| Touch screen: | 7-inch screen; |
| Input power: | 220V AC50/60HZ; |
| Total power: | 3KW; |
| Air pressure: | 0.4~0.8MPa; |
| Dimension: | about 2260×620×1600mm (L×W×H); |
| Weight: | about 750Kg. |
Application
This Automatic Stator Insulation Paper Inserting Machine is suitable for BLDC motor, servo motor, stepper motors, servo motors, induction motors, etc.
Picture show