Automatic E Bike Hub Motor Winding Machine
The automatic wheel hub motor winding machine is used for E Bike hub motor and electric vehicles wheel hub motor manufacturing.
Adopts two-stations flyer coil winding technology.
The e bike hub motor are used for bike direct drive hub motors or other NEVs, those wanting a lightweight and silent setup, and those wanting awesome hill climbing torque and regen.They boast maximum efficiency across the entire speed range and a high torque at low speeds.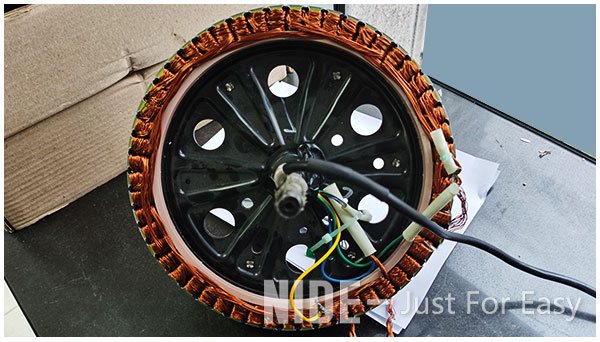 1. E Bike Hub Motor Winding Machine Main function:
The wheel motor stator winding machine has 2 flyer winding stations adopts air cylinder, PLC and touch screen control to realize the main functions of positioning, indexing, flying fork winding, motor cable winding, automatic front thread trimming and other functions. It can store hundreds of parameters and switch arbitrarily.
2. E Bike Hub Motor Winding Machine Application
This wheel motor winding machine is suitable for E Bike hub motor, electric motorcycles motor, electric vehicles motor, electric bicycles motor, electric scooter motor, new energy vehicles, etc.
3. E Bike Hub Motor Winding Machine Technical Parameters
| | |
| --- | --- |
| Product name: | Automatic E Bike wheel hub motor stator winding machine |
| Stator OD: | D200-D300mm(different OD needs to change different tooling) |
| Stator stack: | 30-85mm (The tooling can be used for stacked stators within 5mm. If the random mold is designed for 30mm, it can be used to 35mm stators, If you make a stator of more than 35mm, you need to redo 2 pieces of guard plates, 2 sets of I-shaped blocks, spare parts) |
| Wire dia: | 0.5-1.0mm |
| Winding method: | flyer coil winding |
| Winding station: | 2 |
| Cycle time: | winding 0.9X40 turns 54 slots 15 mins. |
| Primary qualification rate | ≥98%(Stator stack thickness error is less than 0.2mm) |
| Air pressure: | 0.4-07Mpa |
| Input voltage: | 220V |
| Input power: | 5KW |
| Dimension | 900X2100X1700 mm |
| Weight: | 500Kg |
4. E Bike Hub Motor Winding Machine Picture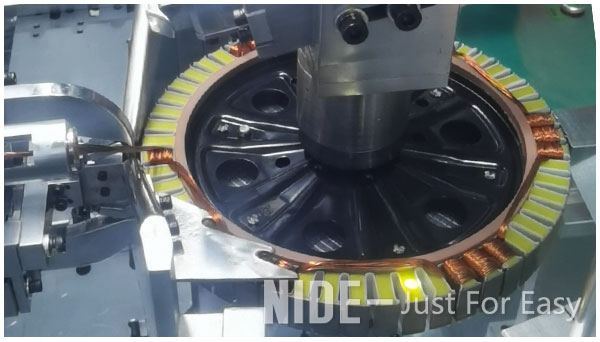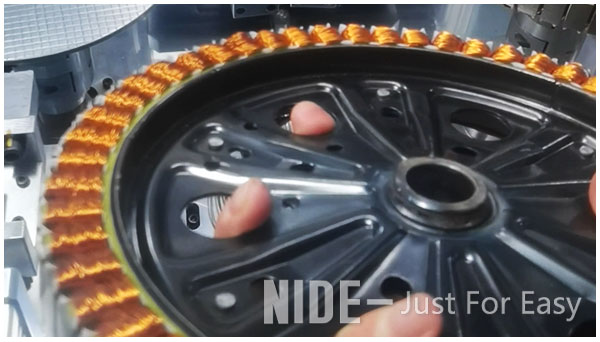 5. E Bike Hub Motor Winding Machine Video