Semi Automatic Motor Stator manufacturing production line solution
The Motor Stator production line solution is suitable for small and medium-sized motor industry. Often used in household appliances, medical equipment, pumps, fans, new energy vehicles, electric tools and other industries.
The Motor Stator production line solution adopts automatic intelligent manufacturing technology to complete a large supply, solve the problems of labor shortage and diversified demand.
The motor stator production line adopts the machine to manually take the stator, and other processes are automatically completed by the machine, including stator paper insertion, stator coil winding, stator wire embedding, stator shaping, and stator coil lacing.
Motor stator production line feature
1. The stator production line can greatly save operators, reduce labor costs, improve production environment, organize production efficiently, improve equipment utilization, and optimize management.
2. Strictly standardized operation, high process stability, stable production capacity, enhance the image of enterprise technology and strength, and be more competitive in the market.
3. The processing data is programmable, the machine is flexible, and the setting and operation are convenient.
4. Each machine works independently and automatically, and the operator needs to manually load and unload.
NIDE can provide a wide range of innovative solutions tailored for motor manufacturing to meet all quality and production requirements, whether it is rotor, stator or complete assembly work for the entire motor production. Our motor manufacturing solutions include BLDC motors, induction motors, three-phase motors, series motors, synchronous motors, stepper motors, etc.
Main machine introduction
1.The stator slot paper inserting machine can meet various requirement. Theproduction capacity ≤1s/slot (exclude the loading/unloading time). Primary qualification rate ≥99%, after rework, the rate ≥99.9%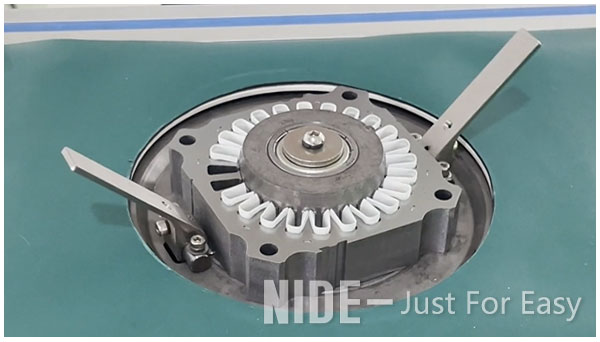 2.The automatic stator coil winding machine is equipped with four winding heads and eight operation stations. It is most efficient coil winding machine of this stator production machine line. Meeting the various requirement, the high slot filling rate, small slot opening stator coil winding. It covers a wide range of stator dimension and wire diameter. Winding mode, such as auto skip, auto cutting and auto indexing could be completed at a time successively, parameter could be set in human-machine interface. Continuous/discontinues winding way and meets the 2 poles. 4 poles, 6 poles coils winding.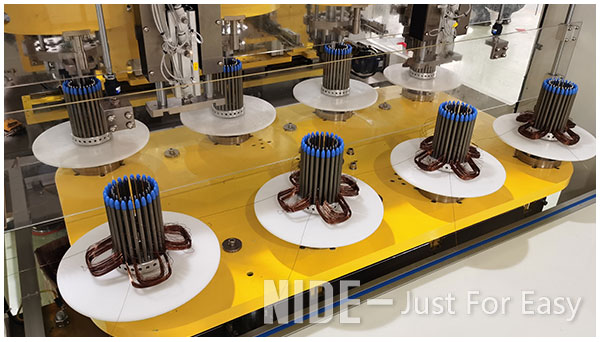 3.The automatic motor stator coil lacing machine is controlled by PLC. Different lacing mode could be set such as slot lacing, interval lacing, and fancy lacing. Tooling change is fast and convenient. There are single lacing machine, doulble station lacing machine and horizontal lacing machine.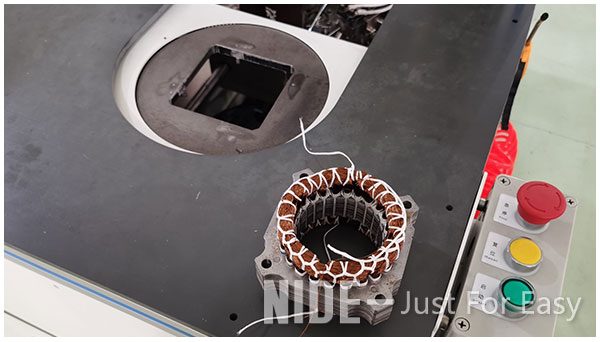 Motor Stator manufacturing production line solution youtube video