Automatic motor coil winding machine for grinder and mixer stator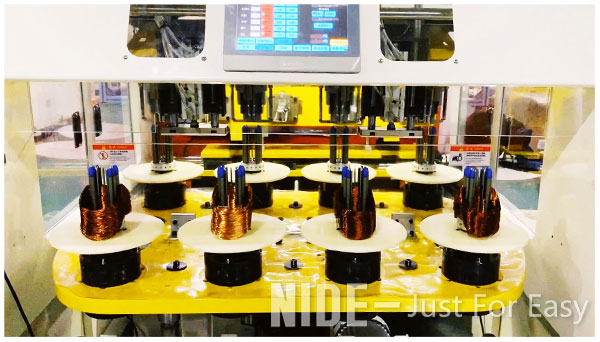 (1) Machine main function and characteristic
This automatic motor stator coil winding machine has four winding heads with 8 coil winding working stations.
Hight efficiency is the biggest advantage.The coil winding machine can put coil into transfer tool automatically,
especially suitable for high fill factor,small slot opening stator;auto skip,auto cutting,
auto indexing could be completed at one time,parameter can be set in HMI,winding tension is adjustable,
has continuous/discontinuous winding method,can meet the 2poles,4poles,6poles coil winding.
Mature and advanced technology,reliable quality,easy operation and maintenece.
The series of machine including single coil winding head with 2 stations , two coil winding heads with 4 stations ,
four winding heads with 8 stations , and six winding heads with 12 stations.
Customers can communicate with us to negotiate technical solutions.
(2)Application
The automatic motor stator winding machine is suitable for grinder , mixer ,air conditoner motor,washing machine motor,
compressor motor,fan motor,pump motor etc.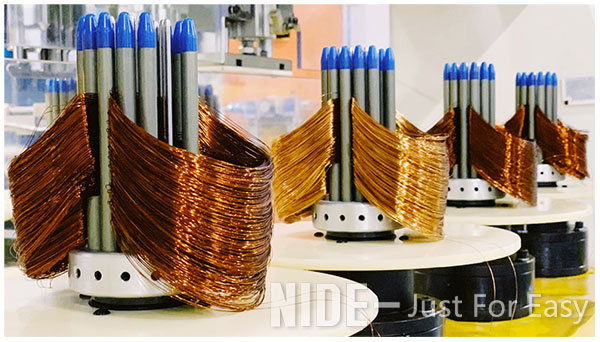 (3)Technical paramenter
Wire diameter: 0.19~1.2mm
Flyer diameter: 220mm
Max stack height: 65mm
Max stator OD: 130mm
Max RPM: 2500RPM
Air source: ≥0.5MPa
Operation station: 8
Winding head: 4
Power supply: 380V 50/60HZ 15KW
Weight:about 4500KG
Dimension:(L)2400*(W)1900*(H)2250mm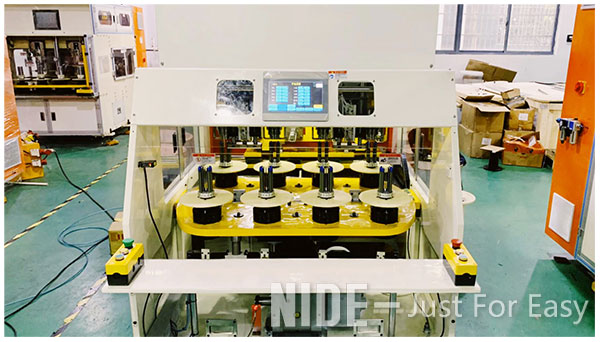 (4)The automatic 8 stations motor stator coil winding machine working youtube video