(1) Application
The armature commutator spot welding machine is used for the start motor of cars and motorcycle, DC motors, power tool motors, household appliance motors and series motors.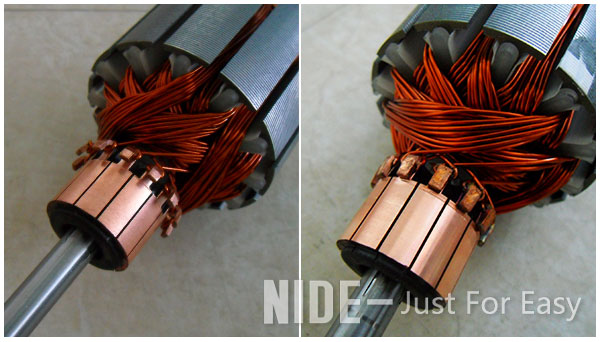 (2) Introduction
1. The automatic commutator hot stacking machine is the special equipment used for hook type and riser type armature commutator spot welding.
2. The current adjustment includes rough adjustment and precision adjustment, totally with 16 grades.
3. The machine adapts AC pulse. The whole machine is controlled by programmable controller ; it could control the exact pre-pressing/welding/transposition/hold time effectively. The operation is free from interference.
4. The machine is turned on/off by the contact-free, large currency crystal module. It is free of noisy and sparks.
5. The machine panel, English display, digital adjustable, it's convenient and easy for operation.
6. The welding machine adopts water cooling internal circulation and has a built-in water tank. It does not need a water source.
7. The transposition of the machine adapts step-by-step impulse; driven by drivers and rotated by step motor with steps adjustable.
8. The vertical mechanical motion of the machine is driven by the cylinder; and the auxiliary electrode is driven by the linear bearing. It can work easily and has good contact with commutator and without damage to the commutator.
(3). Technical Parameter
| | |
| --- | --- |
| Product name : | Automatic commutator spot welding / fusing / hot statking machine |
| Armature O.D.: | max Ф100mm |
| Shaft O.D range: | 1.8mm—23mm |
| Welding wire diameter: | Ф 0.06-1.6 mm |
| Welding length of rotor: | max 350mm |
| Commutator O.D.: | max Ф 60mm |
| Air source pressure: | 0.3~0.5Mp |
| Voltage: | 220V |
| Frequency: | 50-60Hz |
| Rated power: | 25KVA |
| Production efficiency: | 10S/pc |
| Cooling method: | water cooling self-circulation + air cooling |
(4). Installation
1. The equipment should be placed in a dry place and prevent from dusts. There should not be any corrosive gas and flammable/explosive objects in the surrounding area.
2. Make the surrounding area level; adjust bolts of each position.
3. Correctly connect with the inlet power wire; the wire diameter should be the copper wire that larger than 4 mm2.
4. Correctly connect the air pipe.
5. Completely check whether any part of the machine is loosen during the transportation. Correctly adjust the fastening points of each position.
6. Add water into the cooling water tank; the water should be around 90% of the capacity of the water tank.


(5). Picture show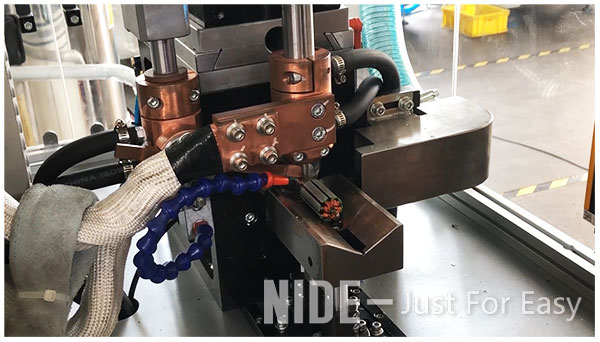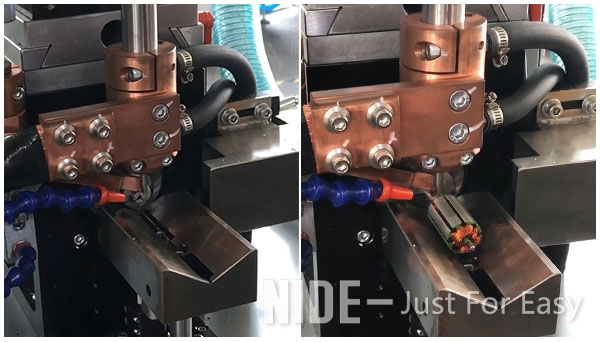 (6). The DC motor armature commutator spot welding machine video